Ministering to the sick in Hollywood
11.18pm. We have had a grand day. A shower as usual when I got up, breakfast in the Beef-Rigger, then Pastor Raymond Collier called for us shortly before 9.00am to drive us to Hollywood for the service at Ministry Chapel.
It took us an hour to get there due to a hold-up on the freeway. When we got there Sister Eileen Bennett took us upstairs where we were able to watch Dr. Schuller on TV, the same programme [The Hour of Power] that we saw last night. We started the service at 11.00am with an infant baptism, Brian [Brian Bosomworth] sang, and I preached on Luke 24:14–35. The church was full, and dozens came out for prayer. I prayed first for the deaf, two or three of whom were spectacularly healed, and had to rush through praying for the others in order to clear the church to make room for a wedding party arriving at 12.30pm. They were a Korean couple getting married. The young man was very nervous and his very pretty bride was in tears. Bro. Collier conducted the ceremony with the couple facing the congregation, and afterwards they had photographs taken in the church.
Meanwhile some of the congregation had lunch in the garden and we had a snack, then at 2.00pm we had the afternoon service. I spoke on Matthew 14:22–33, trying not to sound like Robert Schuller. After the message I explained the Communion, which we had not had time for in the morning. I think it was a new revelation to all present. Sister Bennett called the congregation forward to receive the elements and this took several minutes, then we ate and drank together. After this I ministered to the sick, so many that it was 5.45pm before we got through. The prayer line must have taken nearly two hours. [Lancelot Pinard introduced himself to me afterwards; he has been in several Hollywood films.]
Finally, Sister Bennett and three other sisters took us to the Hollander Restaurant in, I think, Glendale, for a meal. I had turkey and mashed potato, followed by mince tart and coffee. We left the restaurant at 6.30pm, took Sister Bennett home, and then were driven back straight to Garden Grove Community Church to attend Dr. Schuller's Bible Study. The meeting had already started and there were hundreds of people there. We were in time to hear Dr. Schuller speak, from Acts 19:23–41, and afterwards he read out a few prayer-requests and invited people to come forward and kneel in prayer. Finally he gave his distinctive benediction and the service was over.
We saw Frank Morley afterwards. We talked for a while, then he brought us back to the Motel. When we got up to our room it was just after 9.00pm. I put TV on and it was Oral Roberts speaking about the new City of Faith the Lord has told him to build. It was an inspiring programme, but Brother Roberts' physical appearance disturbed us. The pain and sorrow of Rebecca and Marshall's death was written all over his countenance, and he was very close to tears. But this sharing with the people, even in the hour of his greatest sorrow, must have brought help and comfort to countless thousands of bereaved.
After the programme had finished we counted the offering and book money from the meetings, and watched some other preachers on TV, including one who was teaching the preposterous futurist theory of the so-called Rapture, and the grotesque "gap" in the 70 weeks of Daniel. How can anyone be so foolish as to believe this nonsense from the Schofield Bible?
Brian 'phoned Elizabeth last night. Tomorrow, God willing, we are flying to Shreveport, Louisiana. Mrs. Rolf Hovey 'phoned first thing this morning, inviting us to Kentucky. My air letter to her, posted on 20th October, posted air mail, reached her yesterday.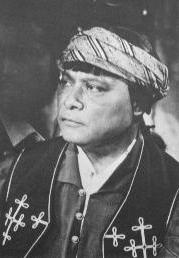 Lance Pinard became a good friend. Born in Trinidad, he became an authority on Caribbean folk music, was an accomplished guitarist, sang in eleven languages, and toured Europe, America and the Far East. He sang for King Leopold of Belgium and the Crown Prince of Tonga (later King George IV). Lance featured in fifteen Hollywood Films, mainly for Paramount, including Two Yanks in Trinidad (1942) with Brian Donlevy, Pat O'Brien and Janet Blair; Happy Go Lucky (1943) with Mary Martin and Dick Powell; I Walked with a Zombie (RKO, 1943) with Frances Dee and Tom Conway; Brute Force (1947) with Burt Lancaster, Yvonne de Carlo and Ann Blyth; Romance on the High Seas (Warner, 1948) with Doris Day — her film debut — and S.Z. Sakall; and The Buccaneer (1958) with Yul Brynner, Claire Bloom, Charles Boyer and Charlton Heston.