---
Some previously published books by


More titles will be put online as time permits. For a full list of previously printed work, just click.
Some of these are still available as books by post: just email Brian (see contact details on the home page).
There is no charge, but feel free to donate toward postage and printing.
And please do drop Brian an email if you read any of these books. Any writer likes to hear from a reader.
---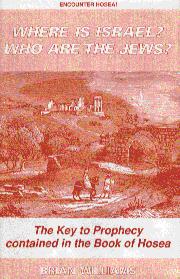 ENCOUNTER HOSEA
Where is Israel? Who are the Jews?
The key to prophecy, contained in the Book of Hosea
Abraham was not a Jew, Isaac was not a Jew, Jacob was not a Jew, Judah was not a Jew, Moses was not a Jew. There were no Jews in Egypt. The first time the word Jew is used in the Bible they are at war with Israel. The name Jew was only ever used of the remnant of the House of Judah which returned from exile in Babylon. Jesus was not a Jew in the sense that we now understand the word.
This little book, a verse-by-verse exposition of the Book of Hosea, brings out with startling clarity the contrasting destinies of the House of Israel (ten tribes) and the House of Judah (two tribes). Only a remnant of the latter became known as Jews.
The approach counteracts two great errors common in Biblical teaching today—first that school of thought which insists on spiritualizing all the promises made to Israel by applying them to the Church, and secondly that of evangelical fundamentalists who aggressively apply God's promises to the modern Israeli state in Palestine as "God's chosen people" and so dictate American foreign policy.
Hosea holds the key to Bible prophecy and has peculiar pertinence for today, again a time when church and nation are in moral and spiritual decay.
© Brian Williams 1993 || A5 40pp || ISBN 0 902785 33 8
---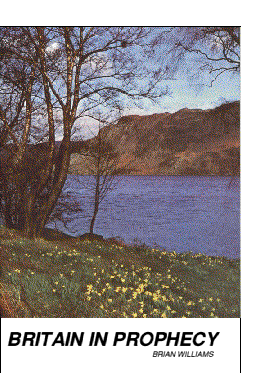 Britain in Prophecy
Only a few decades ago, Britain was the proud possessor of an empire that spanned the world. Today, that empire has gone, the monarchy is under threat, and the nation's sovereignty is being surrendered to a supranational Europe dominated by Germany.
What has happened to this once great nation of Britain? What lay behind the foundation of the greatest Empire the world has ever seen? And why today is Britain a nation that has lost its way, with no clearly defined purpose in the world? Here, at a time when Britain's leaders, political and ecclesiastic, have no solution to her problems, is a book that provides the answer.
Here is an inspiring, almost incredible, story that will bring untold faith and blessing to all who have lost hope in our land and national existence. Only in this interpretation of history will be found the answer to Britain's national predicament.
© Brian Williams 1967, 1992 and 2007 || A5 48pp || ISBN 0 902785 32 X
---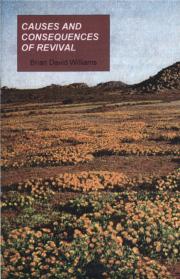 Causes and Consequences of Revival
What is to be done when the peace and prosperity of a nation is disturbed by a massive onslaught of its enemies — by people displaying ingratitude and injustice and motivated by evil?
The situation in southern Africa in the late 20th century — and in the Christian nations of the world today — finds a counterpart in the Bible story of a king of Judah whose nation was oppressed and intimidated by a host of enemies.
Relying not upon military power but on God, the king called the people together to seek divine help. What happened as a result was a glorious revival — a spiritual awakening in which the people turned to God with enthusiasm and great rejoicing, resulting in the total overthrow of their enemies.
The extraordinary nature of their deliverance sets the pattern for revival today. God will not solve the nation's problems until we realize the futility of our own efforts. God is waiting for us to recognize and acknowledge Him and our entire dependence upon Him for deliverance. Only then can victory come.
© Brian Williams 1976, 2001 || A5 13+3pp || ISBN 0 902785 61 3
---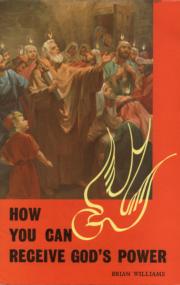 How You Can Receive God's Power
The baptism and gifts of the Holy Spirit
The Baptism in the Holy Spirit is for every Christian, regardless of race, sex or denomination. The disciples of the early Church could not do without this experience, and neither can we. The "Baptism in the Holy Spirit" may be a theological misnomer — for every baptized, converted Christian has received the Holy Spirit — but the experience is real and will change your life.
© Brian Williams 1997 || A5 24pp || ISBN 0 902785 43 5
---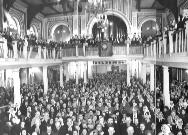 Inside Russia—a report
[A pamphlet written after a trip to Moscow in November 1973]
Quotations from Churchill, Pope Benedict XV, Solzhenitsin, Jesus. — Geography — Politics — Russian intelligence service — Danger to Western visitors — Photography — Currency regulations — Offences against the state — Blackmail — Propaganda — Transport — Hotel accommodation — Newspapers — General impressions — Social services — Red Square — Religion — Bibles — The Evangelical Baptists — Telegram to Mr Kosygin — The underground church — Missions to the Communist world — Origins of Communism — The future.
See also diary entry for 1973, with pictures.
---
Among titles to be added soon: Mary Our Mother
You are welcome to email encouragement to speed up the work! (See contact details on the home page.)
previously printed work
||
tapes
||
---
2007-03-19 revised 2019-02-21 || webpage by Abbey Press Glastonbury