A.J. Sylvester
8.58pm. We have returned to Springfields today. The weather was miserable, dull, as it has been all week, and we had rain later on, so we didn't delay and got back at 2.47pm.
We called at Rudloe Cottage on the way back. I had written to A.J. earlier in the week, telling him to expect us between 10.30 and 11.00am. We got there at about 10.50 but found the place empty. However, we walked down the drive of the R.A.F. and knocked on the door of the first house on the left. It was A.J.'s good neighbour Jill Woodhouse who came to the door. She said he had been taken to St Andrew's Hospital, Chippenham, in Frazer Ward, where he was very unhappy.
We hastened there and were there in a very few minutes. He was in cubicle 5 with two other patients. A group of people surrounded his bedside so we could not see who was lying there, but the nurse announced that Freda and Brian had come, and he called for us to come in. His visitors proved to be Graham and Beverley, and their two sons (A.J.'s great-grandsons), Paul and James, who are 15 and 13.
A.J. was lying down and looked very frail and pale, but very alert and complaining bitterly about being incarcerated with senile patients, and he mimicked a toothless, gaga individual. We felt so sorry for him. We left his bedside for a few minutes while a nurse made the bed, and the six of us went into the chapel, which was almost facing us on the other side of the corridor. Graham said that his grandfather had been found on the floor of the bedroom with the telephone cord caught around his ankle; it was Alan Hardaker who had found him. He had been in hospital about three weeks. However, it was hoped that he would go back home next Thursday, as Maureen and Alan (Evans) would be going there on Thursday.
We were very impressed by the friendly, ordinariness of Graham (who is a top man in Barclays Bank, serving them, if I remember rightly, in the Far East), and Beverley his wife. We asked about the arrangements for A.J.'s 100th birthday on the 24th of next month, and the idea is that visitors will be able to call on him during the day, and have a drink. I left one of my address stickers with Graham so that he can contact us if need be.
We returned to A.J.'s bedside; he was now sitting in a chair. "What time is it?" he asked. I told him it was 11.24am, and when he said he hadn't had any breakfast yet I thought maybe he had forgotten. But the nurse confirmed that he had had nothing to eat: he had refused breakfast. I asked him about the food, and he said it was very good and plenty of it, more than he wanted.
A.J. told us he had been visited by the new curate, Giles Grossmith, who had served him Holy Communion. He was also questioning whether there would be enough for people to drink when they came to see him on his birthday. I told him not to worry. I was sure everything would be taken care of, and if they were not, he should remember Jesus at Cana. "Turning water into wine," said A.J., "and [multiplying the loaves and] fishes." And if such a miracle should prove necessary, they would have to ask the curate to do his stuff. A.J. chuckled at this. He said how grateful he was for our visiting him and held both my hands. I kissed him and reassured him that the worst was past and all would be well, and he looked at me in such a way that he thought he might not se us again. We shall try to see him though, even before his birthday.
We didn't stay long at the hospital. Freda had got salad rolls and Chelsea buns in town earlier, and we ate these parked in a lay-by on the road between Cirencester and Stow. I began reading Bro. Branham's The Identification of Christ in All Ages. While we were sitting there it began to rain.
Everywhere we travel the scene is changing, especially with new roads being constructed. Much of Stratford Road has changed beyond recognition.
Mrs Haq was just coming out of their house [58 Russell Road] as we arrived home. She is flying to Nairobi tomorrow from Heathrow to visit her ailing father. Solma was sitting at the wheel of their car, waiting to take her mother out, and Farah was at the door too. She thanked us for the birthday present we gave her.
When we got indoors I had to turn the gas meter on: the gas people were working here last time we were here, on September 6th.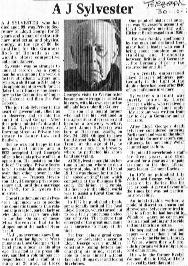 A.J. Sylvester died on Friday 27th October, exactly four weeks before his 100th birthday. The Daily Telegraph published his obituary on Monday 30th October, and the Sunday Telegraph on 5th November. Nita McCallum kindly provided the press cuttings.