Another year draws to a close and it doesn't seem so very long ago that I was writing similar words in my 1952 Diary.
This morning John and I walked with Ginger along Grange Road, Streetsbrook Road and Fox Hollies Road. Mam brought Clarice home from hospital.
During the afternoon I had a bath and Clarice and Julia watched a 110-minute TV production of Toad of Toad Hall. I phoned Dr. Gough and he called in to see Clarice at 6.30.
This evening I am going to the New Year's Eve Social at Church and then to the Watch Night Service.
1953 was my last year at school but was also made memorable, for me at least, in other ways. God works in a mysterious way, sometimes slowly but always so surely, and after months of doubt and indecision as to my immediate future, God gave me the answer when I went to the Guild Social on January 13th. And so in a few days' time I become a student-technician at the Medical School, and I feel sure I am doing the best thing in all the circumstances.
One of the most enjoyable weeks of 1953 for me was the week I spent at Juniper Hall in April. I was really able to relax in the beauty of the Surrey countryside and again when we went to Margate for a fortnight. Somehow though, apart from my visits to the cinema, I don't seem to have been able to relax properly for ages, and I have been far from well these last few months, catching cold after cold.
At school it seemed I never had a spare moment and I came home on the Special Bus only a handful of times last term. I remained Secretary of the Natural History Society and was a Platoon Commander throughout the year, though I didn't get promoted to Sergeant until September.
I made a number of broadcasts in radio and TV:— "Traditions in Public School Singing" (Overseas Services), "Town Forum" (TV, Home and Light), "Pot-Pourri" and "Pictures in Music", and I have several ideas for programmes in 1954.
I also wrote a book, started a play, and have still to develop ideas I have in mind for a short story, a comedy play, and a children's historical play, Whether I accomplish any of these ambitions remains to be seen. I have yet to pass "A" level ...
But above all I shall remember 1953 as the year in which I found new fellowship at the Methodist Church and discovered new friends, one in particular. I found other friends at school too.
Of my many interests probably one received more attention than I had given it before — music. This has been due to the various activities of the Musical Society and Music Circle, to my being a member of Dr. Willis Grant's option period for a year, and to John Winrow's collection of gramophone records.
I have been to the cinema 36 times this year, have developed a more extensive liking for films in general e.g. I now like an occasional film with a historical background, and the "Ali Baba" sort of film. At the same time I have developed a greater perception and am less easily pleased.
The best films of those I saw were Genevieve, The War of the Worlds, House of Wax, April in Paris, The Prisoner of Zenda, Young Bess, Quo Vadis, Albert R.N., and Caroline Chérie, Night Beauties and Adorable Creatures.
Films I didn't like: Don't Bother to Knock, Rose of Cimarron, Once a Sinner, Kentucky Jubilee (ugh!), Cow Country, Three Steps in the Dark.
Films that amused me: It Grows on Trees, Monkey Business, Father's Doing Fine, Road to Bali, Top Secret, Made in Heaven, Top of the Form, Stop—You're Killing Me, The Oracle, Will Any Gentleman?, and of course three of the films I listed as best of the year.
I wish we could have lots more comedies, some good musicals from Britain (or even a musical), and no more films about the American Civil War, Red Indians, Korea.
In the theatre I saw three excellent plays at the [Theatre] Royal:— Call Me Madam, The Moon is Blue, and Meet Mr. Callaghan, also Zip Goes a Million at the Hippodrome, and an outstanding Music Hall act — Terry-Thomas — at the same theatre. The biggest disappointment was 13 for Dinner.
TV gave us good value for money about one night in four I should think, but when it was good it was very, very good.
Omitting the Coronation, which it would be sacrilegious to describe as entertainment, Sport was probably the highlight. We saw Stanley Matthews win the Cup Final for Blackpool, England held to a draw by the F.I.F.A. and eclipsed by Hungary, England winning the Ashes, the Wimbledon Championships, and Speedway Racing, Rugby Football, Swimming, Boxing, Snooker, Ice-Hockey and doubtless one or two more sporting activities — Athletics and Motor Racing are two more which spring to mind.
Good plays were again in short supply. I liked Number Three, Take Away the Lady, The Black Sheep of the Family, Two of Everything, Half Seas Over, Joking Apart, Count Your Blessings, Libel (one of the successes of the year), High Horse, and Rose Without a Thorn, and The Case of Dr. Ambrose.
I have been recalling some of the big 1953 events:—
In January, Mr. Churchill visited Washington to confer with President Truman. On the 20th Mr. Eisenhower was sworn in as President. Two ships hit the headlines: the 26,000-ton Canadian Pacific Liner Empress of Canada was burnt out in Gladstone Dock, Liverpool, and 5 days later on the 31st the B.R. Steamer Princess Victoria sank off the Irish coast — 133 were drowned.
February brought devastating floods to the East coast and to Holland. 300 died in this country, and in Holland the damage amounted to £100,000,000 and the death toll was 1200. The Queen and the Duke visited the stricken areas & Queen Juliana and Prince Bernhard visited London.
March. On the 5th a Polish pilot seeking political asylum flew a Russian built MIG fighter to Bornhdm, a Danish island in the Baltic. Stalin died on the 6th, Mr. Klement Gottwald President of Czechoslovakia died eight days later, and Queen Mary died on March 24th.
In Kenya 100 loyal Kikuyu were massacred by Mau Mau terrorists. At home the Boat Race was won by Cambridge by eight lengths.
On April 4th a Comet Airliner on the first trip of the new passenger service between London and Tokyo, covered the distance in 36 hours. Mr. Eden cancelled his European trip, later had three operations including one in U.S.A. Dr. C.E.M. Joad died on April 9th. The same day, Princess Josephine Charlotte (Belgium) and Prince Jean, the hereditary Grand Duke of Luxembourg, were married in Luxembourg Cathedral. England and Scotland drew 2–2 at Wembley. Mr. Churchill was made a Knight Companion of the Most Noble Order of the Garter.
In May, a Singapore-London Comet crashed in Calcutta. 43 died. Blackpool won the Cup. It was London's hottest Whit Monday for years.
June brought the pageantry and splendour of the Coronation. Everest had been conquered ; Hunt a& Hilary were to be knighted. The Queen Mother and Princess Margaret flew to Rhodesia in a Comet.
July. Seixas (U.S.A.) beat Neilson (Denmark) in the Men's Singles. "Mo" Connelly beat Doris Hart 8–6, 7–5, 9–7, 6–3, 6–4. Mr. Beria was expelled by the Russians. Hilaire Belloc died. The Brabazon bombers which cost £605m were to be dismantled. On the 27th the Korean Armistice was signed. Senator Taft died on the 31st.
During August the Mile Relay record was broken, 4 million people were involved in strikes in France, earthquakes devastated the Ionian isles, Dr. Mossadek's Govt. was overthrown by troops supporting the Shah of Persia. England won the Ashes. Prof. Auguste Picard descended 3450 ft. below the Mediterranean in a bathyscaphe.
September. 7th. Duke flew a Hunter at 727.6 m.p.h. There were earthquakes in Cyprus (10th) and Fiji (14th), and N.Z. (29th). Sugar was de-rationed.
October saw return of Mr. Eden, death of Renthe (5th) and Kathleen Ferrier (8th). 3 Western Foreign Ministers met. An Atomic weapon was exploded at Woomera.
November saw the death of Dylan Thomas (39), King Ibn Saud of Saudi Arabia, and Dr. Barnes. Mr. Truman refused to be investigated. London's terrible fog killed thousands. The Queen began her World Tour. The Piltdown Man was shown to be a fake. England lost 3–6 at Wembley.
And December. There was a three-power Conference in Bermuda. On Christmas Eve 150 were killed in a rail crash in N.Z., and over a hundred in another crash in Czechoslavakia.
So 1953 has been a memorable year in many ways.
[I am in love.
The picture, from the June 1953 photo of Acocks Green High School, is of Helen — and her best friend, Freda Powley (right).]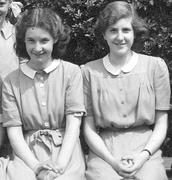 ---
[My 1953 "Money box" account, as recorded on the last pages of my Diary:—]